September 27, 2023
Building Bonds: CHEFA's Commitment to Communities Takes Center Stage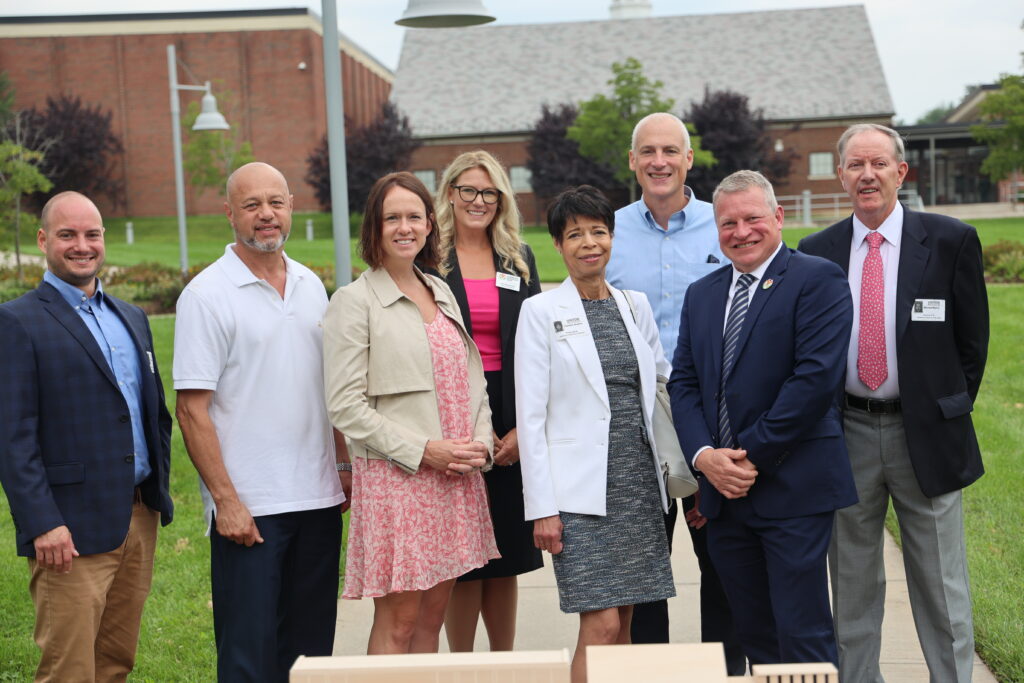 In a testament to its ongoing efforts to foster meaningful relationships with clients, community leaders, and legislators, CHEFA recently coordinated a key site visit to the American School for the Deaf (ASD) in West Hartford. Led by Executive Director Jeanette W. Weldon, Managing Director of Client Services Michael Morris, and Government Relations & Communications Specialist Dan Giungi, the CHEFA team was joined by American School for the Deaf Executive Director, Jeffrey S. Bravin, and esteemed guests Senator Derek Slap and Representatives Jillian Gilchrest and James Sanchez from the West Hartford delegation. This visit was a proactive endeavor to raise awareness about the transformative projects CHEFA supports and their positive impact on local communities.
ASD, steeped in history dating back to 1817, holds a revered place in Connecticut's heritage. As the oldest permanent school for the deaf in the United States and the first institution to embrace children with disabilities in the western hemisphere, ASD stands as a pioneering force in deaf education. It remains the primary educational choice for deaf and hard-of-hearing students in Connecticut, offering a distinctive bilingual learning environment with instruction in both American Sign Language and spoken English.
The CHEFA-ASD partnership, underscored by a successful $14 million financing arrangement, reflects their shared dedication to advancing deaf education. The instrumental role played by M&T Bank in this alliance, through direct financing, further underscores the collaborative spirit that fuels this partnership.
At the heart of this collaboration is ASD's visionary initiative to construct two single-floor dormitories and two multi-purpose sports courts—a project projected to cost $13.63 million. Construction is set to commence in the summer of 2023, with completion targeted for the fall of 2024. These state-of-the-art facilities promise to enrich the lives of ASD's students and significantly enhance the school's capacity to offer a comprehensive education.
The financing mechanism for this ambitious project is structured to be cost-effective by utilizing a drawdown structure.. ASD will submit its expenses to CHEFA for reimbursement, with these funds applied against the approved $14 million allocation. These bonds are designed to mature on May 1st, 2053, ensuring a sustainable and enduring financial framework for ASD's future expansion.
The site visit organized by CHEFA and attended by legislators offered key stakeholders a firsthand experience of ASD's vibrant atmosphere and unwavering dedication to its students. Interactions with ASD staff and educators illuminated the school's commitment to excellence in education and the profound impact it has on the lives of its students.
This visit served as a powerful reminder of the significance of the CHEFA-ASD partnership. It vividly demonstrated the shared enthusiasm and vision for creating a brighter future for all students. The invaluable support and engagement of the West Hartford delegation played a pivotal role in reinforcing the bond between CHEFA and ASD.
As construction gears up to commence, the American School for the Deaf stands on the precipice of a remarkable transformation, thanks to the enduring partnership between CHEFA and the leadership team at ASD who share the school's vision. Together, they are not just constructing dormitories and sports courts; they are forging a legacy of empowerment, education, and inclusivity. The journey ahead promises a brighter, more inclusive future for all students at ASD and serves as a testament to CHEFA's commitment to enhancing communities across Connecticut. #CHEFAASDPartnership #ASDTransformation #CommunityEmpowerment