Client Grants
CHEFA Grant Recipient—Griffin Hospital, Derby, Connecticut

CHEFA FY 2024 Client Grant Program Update
The FY 2024 CHEFA John M. Biancamano Client Grant Program is currently in the application review process. All applicants will be notified of approval or declination results by November 17, 2023.

If you have any questions, please feel free to reach out to Betty Sugerman Weintraub, Manager of Grant Programs and Philanthropic Outreach at 860-761-8428 or bweintraub@chefa.com
---
CHEFA Demonstrates Philanthropic Leadership by Awarding More than $1M Throughout the State to Support Healthcare, Education and Childcare Initiatives.
November 2022- Efforts to grow and diversify Connecticut's healthcare workforce received a major boost when the Connecticut Health and Educational Facilities Authority (CHEFA) made several significant grant commitments to support recruitment, retention, and diversification initiatives throughout the state in its FY 2023 John M. Biancamano Client Grant Program.
Over $220,000 was collectively awarded to Stamford Hospital, the University of New Haven, and the Norwalk Hospital Association to implement a community health worker program, increase access to necessary dental hygiene treatments for underserved populations, and support career opportunities for individuals who might otherwise face barriers to employment.
Quinebaug Valley Community College and Capital Community College also received grants totaling over $120,000 to support and expand their allied health and nursing programming.
Saint Francis Hospital received over $70,000 to support innovative nutritional health interventions and educational programs giving patients and family members the opportunity to take positive steps to improve their health.
The University of Bridgeport also received a major commitment of $75,000 to make improvements to its STEM on Wheels Bus. The new equipment and bus improvements will enhance STEM programming and the hands-on learning experiences offered to nearly 1,000 K-12th grade students in Bridgeport.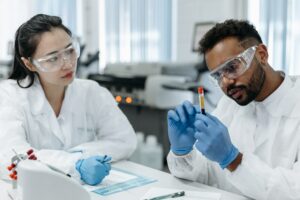 These recent grant commitments not only demonstrate the invaluable role CHEFA plays by providing philanthropic support to residents throughout Connecticut, but they also demonstrate the widespread impact CHEFA programming has in two of our key sectors, healthcare and education.

Jeanette W. Weldon, Executive Director of CHEFA
FY 2023 Client Grant Recipients
---
CHEFA Awards More Than $1 Million in Grants to Support Connecticut Healthcare, Education, and Childcare Organizations
December 2, 2021-The Connecticut Health and Educational Facilities Authority (CHEFA) Board of Directors recently voted to award $1,050,056 in grant funding to sixteen organizations throughout Connecticut. CHEFA is one of the only funders providing grants statewide for programmatic and capital projects. The sixteen awards provide grants to entities in three out of the eight Connecticut counties, including: Hartford, New Haven, and Fairfield. In addition, many of the programs funded by these grants will be conducted in multiple counties, and statewide.
The grants were made as part of the FY 2022 John M. Biancamano CHEFA Client Grant Program. The grants will support the work of organizations representing some of the most important sectors of Connecticut's economy including the education, healthcare, and childcare sectors.
Betty Sugerman Weintraub, CHEFA Grant Program Manager stated "the grant awards continue to demonstrate CHEFA's ongoing philanthropic leadership and commitment to supporting a diverse group of organizations providing vital services in communities throughout our State."
Organizations receiving grants include The Cornell Scott-Hill Health Corporation in New Haven and the Hall Neighborhood House in Bridgeport. The Cornell Scott-Hill Health Corporation will use their CHEFA grant funding to renovate an existing commercial property into a future care site that will help provide increased access to primary and behavioral health care in an area of Hamden where the percentage of residents receiving Medicaid is nearly 50% higher than Hamden as a whole.
The Hall Neighborhood House (HNH) will use its CHEFA grant funding to remediate existing facilities and remove underlying lead hazards. The organization serves 265 infants, toddlers and preschoolers. It cares for another 50 children in the after-school enrichment and summer camp programs and 25 youth in the college and career preparation program. All children enrolled in HNH programs are low-income and 99% are children of color.
Jeanette W. Weldon, CHEFA Executive Director said "As we celebrate 20 years of the CHEFA Grant Program we are proud to assist these important organizations with their vital work. The grants represent investments in our core priority sectors at a critical time."
CHEFA's Grant Program was established in 2002 and has provided more than $35 million dollars since inception to CT nonprofit organizations supporting capital projects/purchases, and programs.
FY 2022 Client Grant Recipients
---
Grant Management System
Are you looking for the link to our Grant Management System to file a report? If so, please contact Betty Sugerman Weintraub and she will send you the link. If Betty is not available, please email Rebecca Hrdlicka for assistance.
CHEFA FY 2023 John M. Biancamano Client Grant Awards
CHEFA FY 2022 John M. Biancamano Client Grant Awards
---
$75,000
Awarded to Day Kimball Healthcare, Inc. for Mobile Computerized Workstations
$73,681
Awarded to Naugatuck Valley Community College for a Welding Lab Project
$74,941
Awarded to The Village for Families & Children for Building Capacity for Telepsychiatry
$75,000
Awarded to Manchester Early Learning Center for Pre-School Renovations
$75,000
Awarded to Cornell-Scott Hill Health Corporation for Ophthalmic and IT Equipment