October 10, 2023
Empowering Through Inclusivity
Nulin's connection with Mystic Aquarium began during her studies at Quinnipiac University when she embarked on an externship program there. Little did she know that this experience would shape her career and personal mission. Upon completing her studies, Nulin returned to Mystic Aquarium as a full-time employee, using her occupational therapy expertise to enhance accessibility to the Aquarium's programs.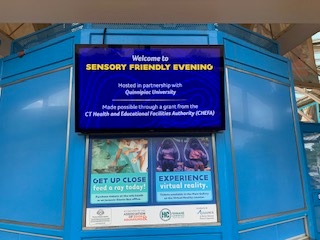 This endeavor holds special significance for Nulin due to her personal connection; her brother is neurodivergent, reinforcing her belief in enabling individuals to pursue their passions. Mystic Aquarium received a crucial boost from a generous CHEFA grant, allowing the creation of a program aimed at helping neurodiverse students transition from high school to the workforce.
For a decade, Mystic Aquarium had partnered with Stonington High School to run the Mystic Aquarium Community Classroom, offering students with disabilities real-world work and life experiences. This program's impact was profound, and it received recognition with the "Just One Chance" award from Stonington Public Schools and the Greater Mystic Chamber of Commerce.
Statistics indicated that individuals with autism spectrum disorders faced significant unemployment rates upon graduating from school. The transition from school to the workforce posed considerable challenges, and the Community Classroom program was designed to bridge this gap.
The program instilled confidence in students by teaching vital workplace and social skills. Many program graduates even joined Mystic Aquarium as valued employees.
Beyond its direct impact, the program served as a model for fostering inclusivity. Mystic Aquarium is committed to creating a welcoming environment for all, offering sensory-friendly events and training to its staff. Furthermore, a partnership with Quinnipiac University's Occupational Therapy Clinical Education program in 2022 has brought valuable expertise to support these initiatives.
Inclusivity had become a core value at Mystic Aquarium, reflecting its dedication to inspiring people to care for and protect our ocean planet through conservation, education, and research.
Nulin's journey symbolized Mystic Aquarium's commitment to empowerment and inclusivity, a commitment that continued to shape its identity and mission.